Introduction of Multi-lane Sauce Packaging machine
The Use of a Multi-lane Sauce Packaging Machine
In the modern period, takeout dinners have progressively increased in frequency and sauce packing has grown in popularity. In response to customer demand, the small sauce packages are portable and hygienic, which not only makes people's meals more convenient but also upholds the standards for high-quality food. Due to the high demand for the daily production of small sauce packages, manufacturers frequently require many sauce packing machines, And purchasing many packaging machines requires a large surface area, an increase in the number of workers required to operate the machine, and an increase in production costs.
Therefore, given this situation All-Bloom an intelligent equipment manufacturer (AMPGT) has developed a Multi-lane sauce packaging machine that is suitable for the automatic packaging of soy sauce, peanut butter, ketchup, mustard sauce, mayonnaise, and other sauce products.
Advantages of Packaging Machine
The multi-lane sauce packaging machine is highly efficient. It can produce 2-20 lanes at the same time. You can select lanes according to your preference. Multi-lane sauce packaging machines can perform multi-tasks. It can weigh, fill and make packs at the same time. This machine can produce many sauce packs in less time so it has a low production rate. It can produce a maximum of 50 cycles per minute. A multi-lane sauce packaging machine is equal to multiple small-single machines. It is an automated machine so only one person is required to operate the machine.
Thermal Stirring and Liquid Sensing function
Multi-lane sauce packaging machine has a hopper function. The Hopper of this machine has an automated liquid-level sensing function. The hopper alerts the filling pump to automatically fill the material when there is not enough material in the pack.
The hopper also has the function of heat preservation and stirring which allows the sauce to fill even more evenly.
Filling methods are optional
According to the product characteristics, different metering devices can be configured such as a Piston pump, ceramic pump, rotary pump, etc. Each pump can independently adjust the filling capacity according to the needs, which is flexible and ensures even filling.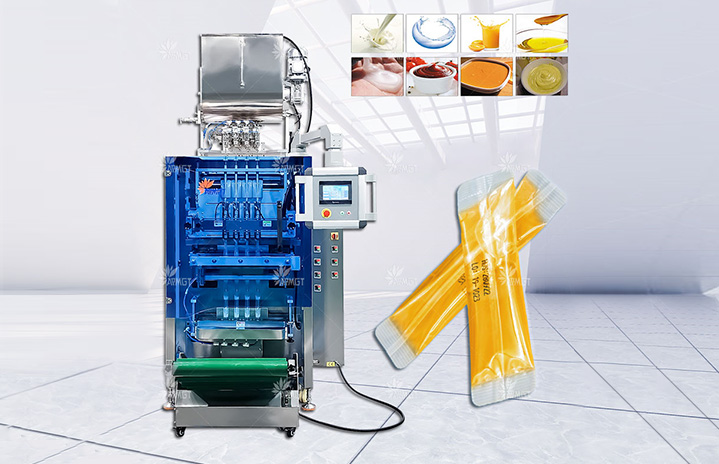 Easy to operate
Packaging parameters can be easily set and adjusted on the touchscreen control panel. It has the functions of fault self-alarm, self-destruction, and self-diagnosis. The machine can sense the crisis and alarm operators. It is also capable of shutting down when a crisis arises.
The box body and the material contact parts are made of stainless steel 304, which fulfills the requirements of food production. The packaging machine can be automatically connected to the front-end storage bin. The whole process from the completion of production to the packaging is fully hygienic and safe.
Beautiful and flat bag with high precision
The sealing adopts multi-knife heat sealing. Heat sealing independently controls the temperature, which makes the packaging firm and beautiful and ensures that the material will not leak during transportation.
The heat sealing is independent of temperature control and is more uniform. The servo motor controls the pack-making. Its packaging is exquisite and the precision is high.
Why choose us?
APMGT is a leading manufacturer of automatic packaging machines. Our has 20-plus years of experience in automated granule packaging machines. Our sales representatives are located all over the world, and our products are renowned for their quality, reliability, and efficiency. We have skilled engineering technicians with many years of experience and an independent after-sales service team to help when you need professional and knowledgeable expertise. All products have passed CE certification, and other certifications. Our products are sold all over the World.